Welcome to Santorini, the home of ultimate relaxation. Many extravagant spa hotels on the island are designed to shape you into a wellness-conscious person. This is not only accomplished by providing you with the best accommodations in Greece but also by providing wellness activities such as massages and yoga classes. So, if you are ready for a wellness holiday in Greece, here are the best spa hotels to visit near Santorini.
1. Phos The Boutique
Phos The Boutique is a super fancy 5-star hotel in Akrotiri, perched right on the edge of the caldera, giving you the most amazing views. The rooms are like little houses and they each have a private pool that you can use all year round. There is a total of 100 rooms which are super modern but have a cool mix of old and new styles and the beds are big and comfy.
At the Phos Boutique Hotel, they've got something special for those looking to find their inner zen and rejuvenate their body and mind. Imagine starting your day with a gentle yoga class, surrounded by stunning views of the Caldera. It's like doing yoga on a picture-perfect postcard! Moreover, Phos The Boutique has a range of spa treatments that will leave you feeling like you're floating on air. From soothing massages to revitalising facials, their skilled therapists use top-notch organic products to pamper you from head to toe. You'll leave feeling like a brand-new person.
Phos The Boutique also has an amazing private sun terrace where you can indulge in a spa day all day to yourself. Imagine being under the Greek sun with the sound of the sea in the background. Get ready for a spa adventure like no other. The body treatments are a symphony of relaxation and rejuvenation, each one designed to transport you to a state of pure bliss. From invigorating scrubs that leave your skin radiant to nourishing wraps that envelope you with opulence, every treatment is a sensory journey.
2. Honeymoon Petra Villas
Honeymoon Petra Villas, a charming family-run hotel, sits on the cliff of Caldera, gifting guests with jaw-dropping 270-degree views of Santorini and the volcano. It is split into two parts. The first has 8 cosy apartments built in the island's traditional style, while the Petra wing features 17 apartments carved right from the volcano rocks.
Guests can enjoy a wellness journey with all energy at the fitness & health club, where a well-equipped gym welcomes them to sharpen their physics. Visitors at the hotel can soak themselves in specialised body and facial treatments of the hotel including a hydrating facial treatment that ensures replenishment and nourishes the skin. Guests are also welcome to enjoy the sauna for some peaceful time alone treating themselves to a fantastic body relaxation treat.
3. Princess Spa Hotel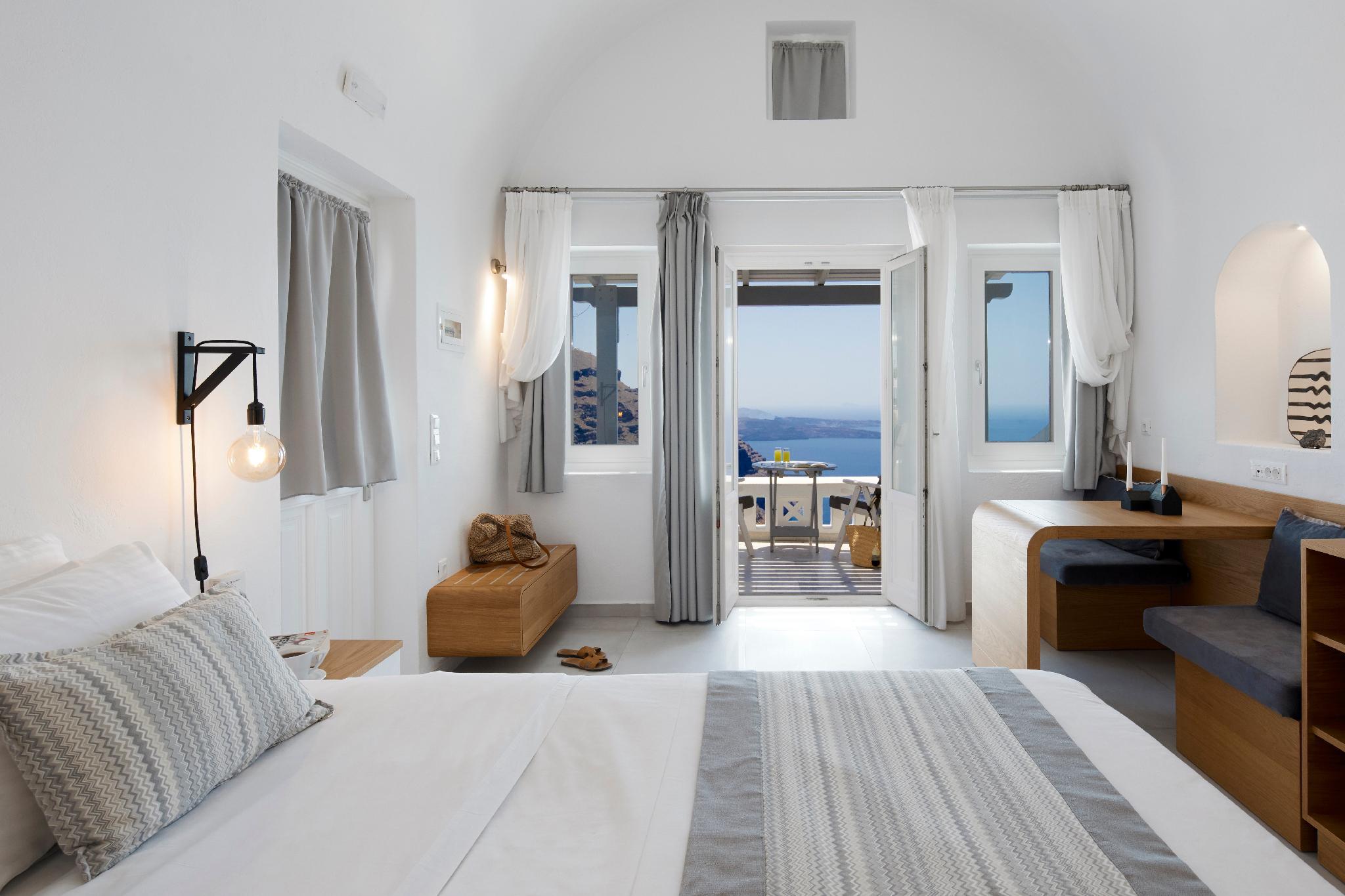 In the charming village of Imerovigli, you'll discover the exquisite Santorini Princess Luxury Spa Hotel. This gem blends with Santorini's traditional charm with a touch of opulence. This magnificent spa hotel has 23 rooms which are built with marble floors and artistic accents. The hotel offers amazing lodgings with a balcony which gives you magnificent views of the Aegean Sea.
Picture yourself basking in massages that melt away stress, leaving you feeling like a cloud. Princess Spa Hotel offers facial treatments which include a hydrating facial treatment to replenish moisture, deep cleansing facials to purify the skin, and anti-aging facials to target fine lines and wrinkles.
4. Avaton Resort And Spa
Avaton Resort and Spa is a fancy hotel on a cliff edge in Imerovigli. It is in a calm spot, offering a peaceful getaway. This spa hotel consists of 9 rooms and guests can relax in the indoor or outdoor pool. The rooms are stylish in white, with amazing views of the sea and caldera.
Explore the soothing touch of an Indian leg massage, a blissful treat for your tired limb. Cover yourself in the exotic aroma of spice-infused scrubs, leaving your skin flawless and glowing. For couples seeking bliss, discover special honeymooner packages, a delightful way to unwind together.
5. Aspaki by Art Maisons
Aspaki Exclusive Hotel is like a secret treasure chest, offering stunning views that will take your breath away. There are 11 rooms amazingly designed to make every guest feel welcomed and appreciated. The hotel with its charming Greek-style suites, is like stepping into a dream.
Guests can stay active and energised at the fitness centre, equipped with state-of-the-art facilities for a satisfying workout session. For those seeking ultimate relaxation, the spa offers a range of rejuvenating treatments, including soothing massages like the classic Swedish massage for muscle relaxation and improved blood circulation. The spa also features a steam bath for detoxification and a hot tub for a luxurious soak.
Aspaki Exclusive Hotel is located near the Aegean Sea, offering opportunities for swimming, snorkelling, and enjoying beachside relaxation. Guests can visit nearby areas like the famous Amoudi Bay for fresh seafood dining or take a boat tour to explore the volcanic islands and hot springs.
Embrace the Best Accommodation near Santorini
When it comes to picking a suitable hotel for yourself, make sure you explore the spa hotels near Santorini which give you the best of comfort accompanied by some wellness facilities to ensure your maximum satisfaction. You can explore more about cities in Greece here.