In Thessaloniki, spa hotels are not just places to stay, they are sanctuaries of rejuvenation. Imagine being pampered in the land where ancient healing traditions meet modern luxury. From soothing massages to revitalizing treatments, every moment is a journey toward inner harmony.
With breathtaking views and warm hospitality, these spa hotels offer a wellness experience that transcends the ordinary. Here is a list of the best wellness spa hotels in Thessaloniki.
 1. Hyatt Regency Spa Hotel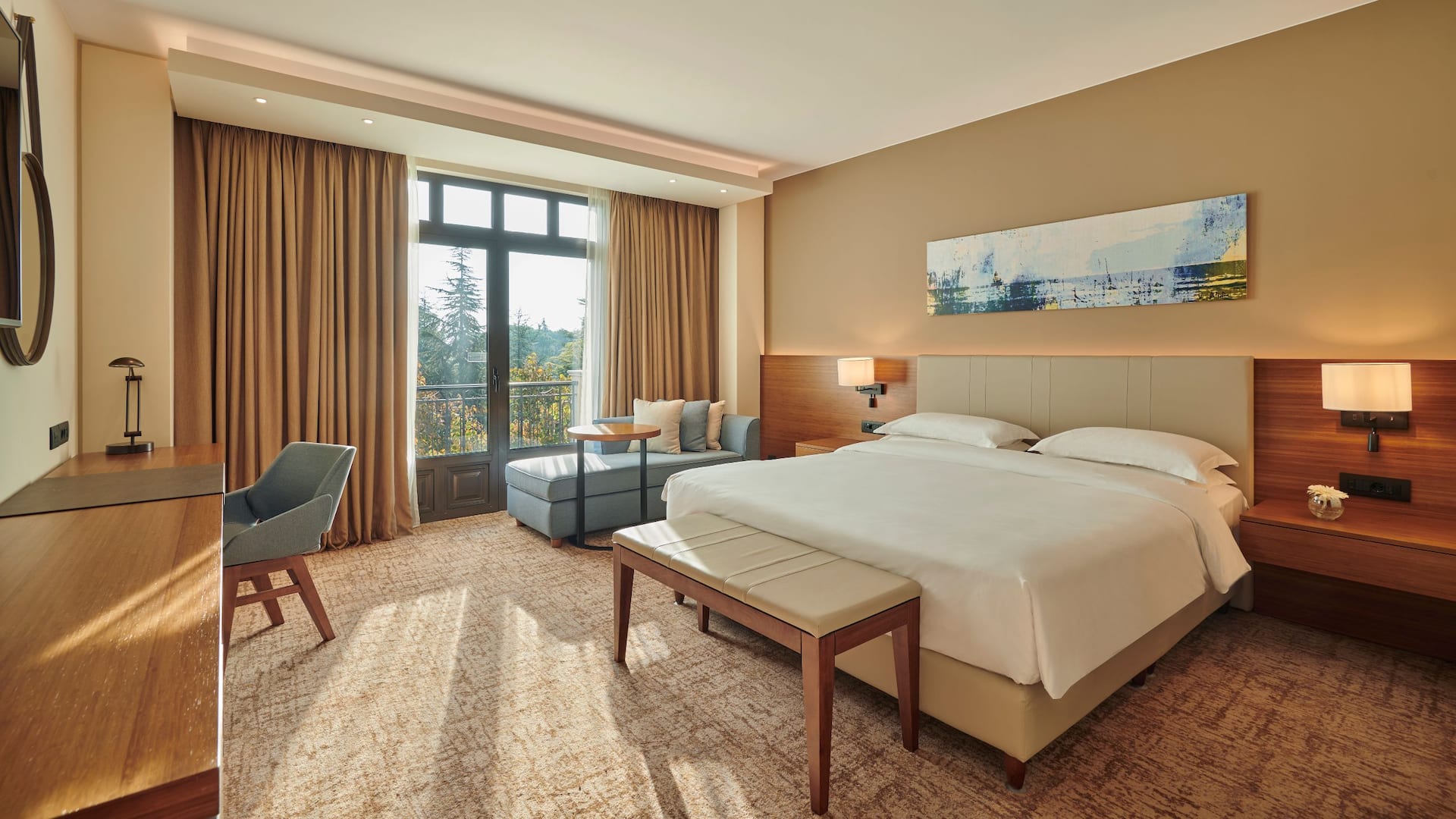 The Hyatt Regency Spa Hotel is an amazing 5-star hotel that offers 152 spacious rooms and suites, which is the largest among luxury hotels in Greece. This includes 34 suites, many of which have access to gardens or balconies.
Step into the world of wellness accommodation where a list of top-notch amenities awaits you. Picture yourself in a fully equipped Olympic fitness center, ready to embark on a journey of wellness and strength building. And don't miss the Asian Ayurvedic Spa, a special treat inspired by ancient Indian practices.
It is not just a spa treatment, it's a holistic experience. The journey begins with a natural herbal purification process, followed by a carefully crafted diet plan to enhance your strength and melt away tension. It's a secret recipe for ultimate relaxation and well-being, blending ancient wisdom with modern comfort. In fact, there's the inviting outdoor pool, calling you to take a refreshing dip and soak in the serenity. The hotel life has never been this captivating.
The guests can experience the nearby Waterland wonderland of excitement by getting their hearts racing on thrilling water slides or drifting down the lazy river in blissful relaxation.
Ride the waves in a pool that feels just like the ocean. The little ones have their own space with pint-sized slides. plus, there are pools, Jacuzzis, and sunny spots for lounging. When hunger strikes, there's a variety of healthy eateries to choose from.
2. The Met Hotel
The MET Hotel accommodation is committed to providing the best for guests. The entire hotel is adorned with unique pieces of art and 212 guestrooms. All the rooms are air-conditioned and feature a contemporary design with wooden floors and marble bathrooms, each room is soundproofed, and guests can enjoy Asian cuisine for dining.
Dive into a world of well-being at this hotel, where they've got something for everyone, whether you're on a mission for gains or aiming to shed some weight. Their top-notch fitness center has you covered for ultimate relaxation, the Hamman beckons and the indoor pool offers a calm escape. In fact, if you need some pampering, you can get a rejuvenating massage. For this reason, it's a complete wellness experience tailored to your every need and desire.
Guests are introduced to a range of different types of massage treatments such as the Swedish massage which uses gentle strokes to relax muscles, while the deep tissue massage targets deep-seated tension. The hot stone massage incorporates warm stones for muscle relaxation, and aromatherapy massage uses scented oils for a sensory experience. On the other hand, sports massage focuses on areas strained from physical activity.
 3. The Anatolia Hotel
Step into the vibrant heart of Thessaloniki and choose the Anatolia Hotel for your stay in this elegant 4-star gem with a total of 69 rooms and suites. The rooms and suites are designed with elegant, natural-toned furnishings. Moreover, every room comes with a satellite TV and complimentary Wi-Fi.
Guests can enjoy a wellness journey with all energy at the fitness & health club, where a well-equipped gym invites them to sculpt their vitality. Alternatively, guests can immerse themselves in specialized body and facial treatments of the hotel consisting of hydrating facial treatment that aims to replenish and nourish the skin leaving it spotless and fresh.
You can also explore body treatment which aims to get rid of dead skin cells and leaves the skin smooth and refreshed as new. Best of all, the body scrub treatment is offered by the hotel upon the visitors' request.
4. The Nikopolis Hotel
Discover the extraordinary Hotel Nikopolis, where you'll find a coastal Olympic-sized pool and contemporary rooms adorned with warm wooden floors. Where you can gaze upon the inviting pool or lush gardens. The hotel offers 99 rooms with elegant marble bathrooms and separate showers with luxurious tubs.
Embark on a sensory voyage at Hotel Nikipolis, where a delightful array of massages awaits you. Picture the Swedish massage, a gentle dance that lulls you into relaxation and boots circulation, or a dive into invigorating deep tissue revival, where skilled hands untangle knots, leaving you flexible and energized.
The hot stone serenade? it's an ancient magic show with heated stones, melting away tension and inducing a deep sense of calm.
Experience Wellness in Thessaloniki
In conclusion, wellness isn't just a trend in Thessaloniki, it's a way of life. Imagine waking up to the soothing embrace of the Aegean Sea, letting ancient traditions and modern comforts renew your spirit. From invigorating spa treatments to wholesome Mediterranean cuisine, every moment is a step towards holistic well-being.
These hotels offer not just accommodation, but a transformative journey that leaves you refreshed, revitalized, and utterly enchanted. You can read more about wellness activities in another city in Greece here.