Imagine scrolling through Instagram, greeted by captivating snapshots of Greece's finest islands. There's a good reason they steal the spotlight year after year. These sun-soaked heavens boast stunning sunsets, golden beaches, ancient wonders, lively nightlife, crystal clear waters, thrilling water sports, and mouthwatering cuisine, who can resist gyros and feta-loaded salads?
Whether you're planning a romantic honeymoon or a fun-filled girls' getaway, these islands are the dream. Sure, Santorini, Mykonos, Hydra, Lefkada, Rhodes, and Zakynthos are the headliners, but did you know there are over 200 more? Here is a list of the top islands in Greece you should visit.
1. Santorini Island
Welcome to a place of enchantment, that hardly needs an introduction. Sure, there might be lines forming to capture the sun's graceful descent behind the caldera, but the memory of that sight will linger far beyond your return flight. The ultimate Santorini experience. Lounging in the sun and gazing across the white-draped buildings to the endless sea, right from the comfort of your suite, most of which are snuggled in Oia and Imer's vigil.
The island possesses a two-tiered infinity pool, a top-notch fitness, and Greece's inaugural Nobu Restaurant, featuring signature delights like black cod miso, and yellowtail sashimi with jalapeno. Santorini Island offers guests a range of fitness facilities, including well-equipped centres where guest can maintain their workout routines. While also providing a range of captivating hiking trails such as the renowned Fira to Oia route with stunning caldera and Aegean Sea views.
2. Lefkada Island
In the Ionian Sea, the captivating island of Lefkada remains a well-kept secret, easily accessible from London and the mainland via a quaint bridge. Surprisingly, its pristine shores and awe-inspiring cliff-backed beaches like Egremni, Porto Katsiki, and Gialos, remain blissfully uncrowded.
In the enchanting realm of Lefkada Island, a range of beach activities awaits you, from the exciting dance with the wind in the windsurfing and kit surfing to the calm embrace of sun-drenched sands and invigorating dips in crystalline snorkelling and boat escapades revealing hidden coastal wonders.
Meanwhile, within the island sanctuary, an opulent world of spa satisfaction awaits, where skilled hands administer massages to banish tension, facials to unveil radiant skin and invigorating body scrubs and wraps for a luxurious glow.
3. Mykonos Island
Mykonos, a Greek island of enchantment, is a mosaic of history, natural beauty, and elegant charm. Beyond its stunning beaches and lavish accommodations, the island invites you on a journey through ancient ruins and charming streets.
On Mykonos island, nature experts can delight in fantastic hiking trails like the trail from Agios Ioannis to Kapari Beach, offering breathtaking coastal views and calm escape, for relaxation, an array of spa treatments await, from calm massages to invigorating facials, providing a perfect balance of adventure and refresh.
Tourists can also enjoy beach activities abound, with options like sunbathing and swimming on stunning beaches such as Paradise and Super Paradise, or snorkelling to discover the vibrant underwater world, ensuring a diverse range of experiences for every visitor. Lodgers can also go on boat cruise tours for an exciting experience on the island with their families and friends
4. Hydra Island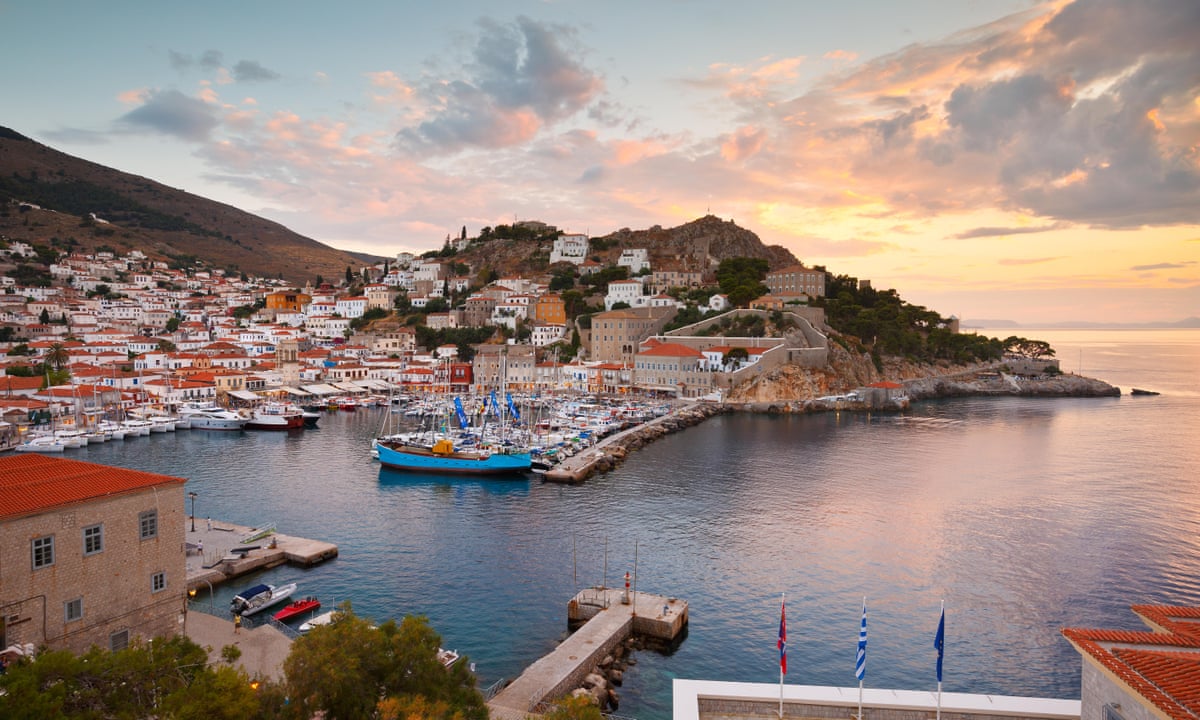 Hydra, just a swift two-hour ferry jaunt from Athens, emerges as the sophisticated, redefined elder sibling of the Greek archipelago. While sandy shores might be scarce, the island compensates with timeless allure steeped in glamour. Having graced the silver screens in various films and beloved by A-listers like Leonardo Cohen and Oliver Palermo, Hydra Island exudes an aura of exclusivity.
Tourists can enjoy a range of massages designed for the perfect unwinding and restoration. Options include Swedish massages for gentle muscle relaxation, deep tissue massages to alleviate tension, and aromatherapy massages for a sensory journey. As for the activities, guests have a diverse range of options to choose from. they can lounge on pristine sandy shores, take refreshing dips in the crystal clear waters, and engage in water sports like snorkelling to enjoy the vibrant underworld. For adventure seekers there are opportunities for windsurfing, providing an exhilarating experience on the waves.
Boat excursions and hiking trails also offer unique ways to explore the island's coastal beauty and scenery. They can explore the great scuba diving sights to experience an intensive wellness feeling of exploring the island waters.
5. Kos Island
Kos Island is the second most sought-after island in the Dodecanese and is renowned for its sandy shores and vibrant nightlife it offers an extravagant atmosphere in the waters and calms your mind with its peaceful aura.
Tourists can indulge in a spa journey that transcends the ordinary. Choose from an array of massages, each tailored to your desires be it the calming strokes of Swedish or the tension-melting process of deep tissue. Revive your complexion with invigorating facials and enter the glow of refreshing body scrubs and wraps.
The Island beaches are a playground for loosening up and adventure. Sink into the golden sands, surrendering to the rhythm of the Aegean waves. Dive into crystal clear waters for a world of underwater marvels, perfect for snorkelling enthusiasts. For that craving excitement, embrace the thrill of windsurfing and paddleboarding, riding the winds.
Dancing in the Islands of Greece
Are you looking for the best experience on an island? Greece is the perfect destination you should not miss. Which offers you an extravagant water experience of wellness activities at the fullest, with amazing activities to give a transformation in health. You can read more about wellness activities in Greece here.