Stuttgart introduces you to wonderful Christmas markets. Resurrect your childhood memories with an amazing atmosphere and magnificent merry jingles. The city is home to the best Christmas markets prepared to give you a wonderful experience in the festive season. With its numerous markets, you are guaranteed to be impressed. Let us have a look at the most marvellous Christmas markets you should visit in Stuttgart.
1. Esslingen Medieval Christmas Market
The Christmas market at Esslingen whisks visitors away to the Medieval Ages through its diverse and enjoyable offerings. Craftsmen adorned in authentic attire showcase their skills in glass blowing, dyeing fabrics, and crafting metalwork, offering their unique creations for sale. Meanwhile, entertainers like gleams and fire eaters delight the crowds with their performances. A variety of engaging activities are also available for visitors to participate in. Enthusiasts can join a sword fighting workshop to learn and practice ancient combat techniques. Additionally, there are captivating magic shows that entertain and amaze attendees of all ages.
A special event takes place on December 21st: an enchanting torchlight procession ascending to the grand Esslingen castle. This procession presents a unique opportunity for everyone to participate in an atmospheric and memorable experience. Overall, Esselingens Christmas Market not only provides a historical glimpse into the past but also offers a blend of entertainment, interactive experiences, and the chance to immerse oneself in the festive spirit of the Medieval era. It is an occasion where the past comes alive, inviting visitors to indulge in the magic and excitement of a bygone time.
2. Schorndorf Christmas Village
The celebration of half-timbered houses, historical market squares, and charming villages is embraced by enthusiasts at the Schorndorf Christmas Village, situated 30 kilometres east of Stuttgart. The Christmas market and old town alleys are illuminated during Advent, creating a radiant atmosphere.
During a visit to this quaint destination, characterised by only 40 huts, an intimate experience is offered. Here, delightful souvenirs and gifts can be found, and the opportunity to indulge in delicious Christmassy cuisines from diverse corners of the world is available.
3. The Santa Claus Christmas Village
By the close of November, the Kalsplatz in Stuttgart undergoes a remarkable transformation, becoming a lively Finish Christmas Village adorned with red wooden huts and white tents. This Change turns the square into a magnificent hub where individuals can relish Finnish culinary delights like reindeer meat, smoked salmon trout, mushroom salad, and lattyja while quenching their thirst with Finnish beer, Vodka, and Glogi. The shopping adventure is enriched with an array of traditional designs, artistic creations, handicrafts, and clothing options, making it a diverse and engaging experience for visitors.
4. Ludwigsburg Baroque Christmas Market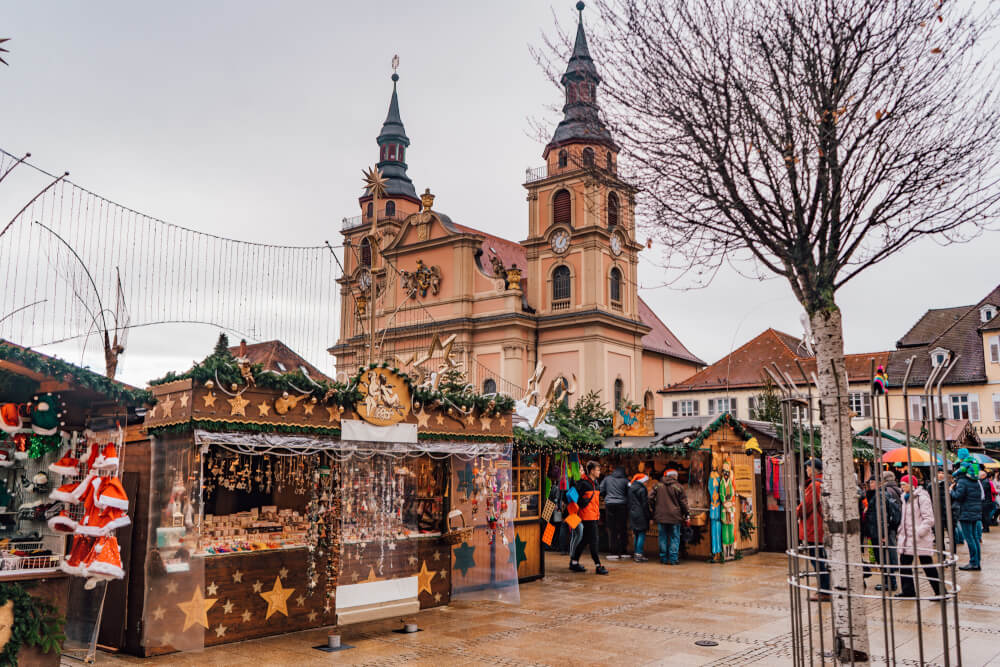 If you are near Stuttgart, you should go to Ludwigsburg. It is a town next to Stuttgart. There is a big old palace there, which was built more than 300 years ago. It is very beautiful. But there is another reason to visit Ludwigsburg. When Christmas is coming, the town has a special market. It has a theme every year. You can see a puppet show, clocks that play music, and old decorations for the Christmas tree. They make the market look and feel like Christmas. You can also eat yummy food there. Some of the food is made in the oven, like gingerbread.
5. Stuttgart Christmas Market
One of Germany's oldest, biggest, and most beautiful Christmas markets is in Stuttgart. It has about 290 huts made of wood. They make the place look like Christmas. The people who sell things at the market decorate the roofs very well. They use lights, ornaments, and scenes of winter. People who like food can enjoy some treats. The market has some special foods from the area. They are biscuits with anise and cake with fruit. You can have a good day at the market. You can eat tasty food while listening to music with bells. This will make you feel ready for the Advent season.
Indulging Moments with Christmas Markets In Stuttgart
Festive seasons are all about spending time with your loved ones and creating memorable moments. And what better way of spending it if not in one of the most marvellous Christmas markets in Stuttgart? Find the best choice of gifts with one of these Christmas markets, and enjoy delicious cuisines prepared with festive ingredients to put you in the Christmas spirit. Read more about Christmas markets in Hamburg here.