Porto, the second biggest city in Portugal, combines relaxed coastal neighbourhoods, winding ancient streets, and lots of historic charm in its old town, Ribeira. This part of the city, perched on the hills by the Douro River, is recognised as a UNESCO World Heritage Site. Whether you prefer a leisurely walk along the Foz de Dours promenade, a visit to Sao Francisco Church, or an exploration of the world of the Wine Museum, you will want a comfy place to rest your feet afterwards. Here is a guide to the best places to stay in Porto.
1. Sheraton Porto Hotel & Spa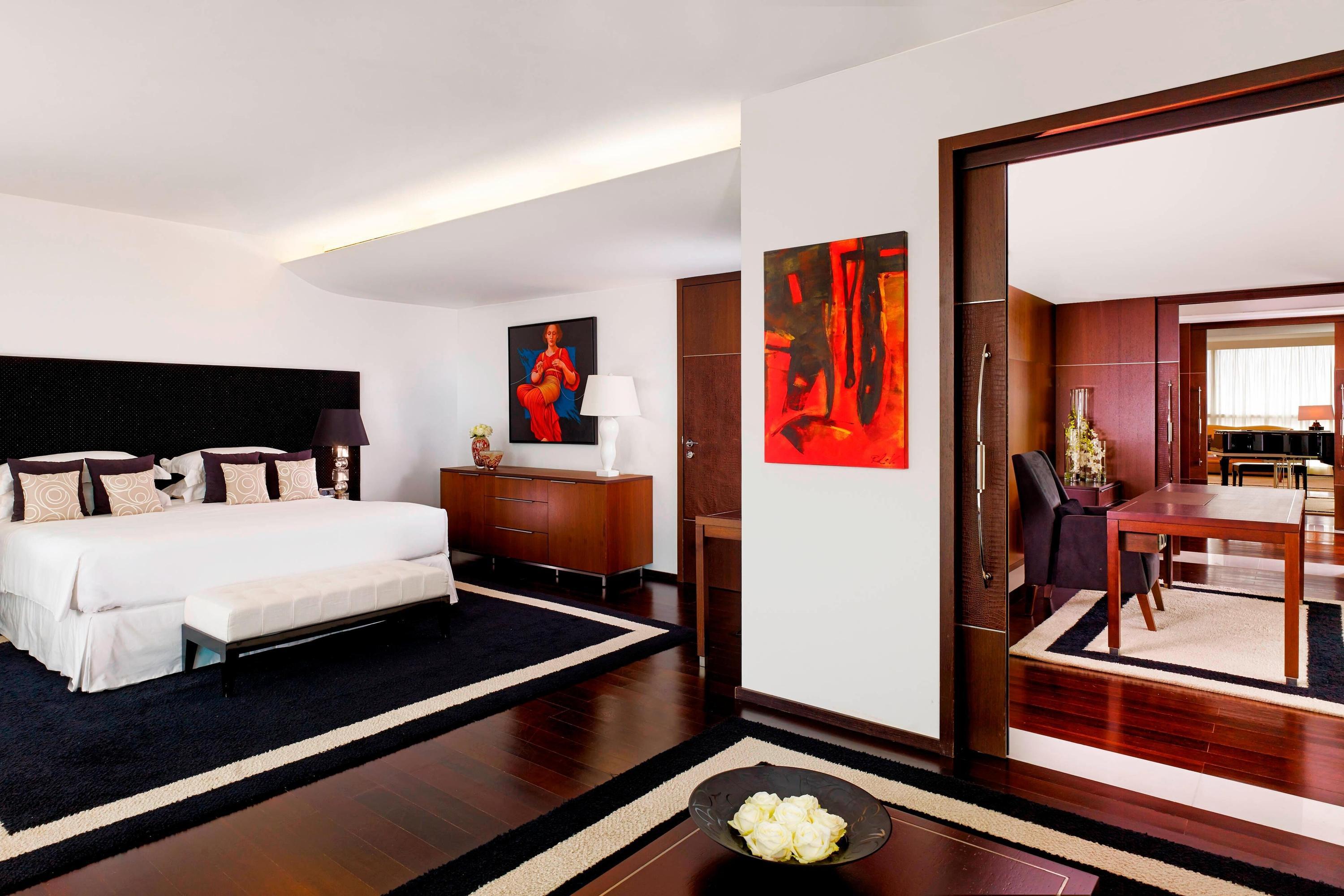 The Sheraton Hotel is known as the top choice for city dwellers in Porto, mainly because it is located in Boavista, the city's business area. On the outside, it looks like a modern mix of steel, glass, wood, and marble. Surprisingly, inside, it's a calm place for relaxation. There's a spa where you can get soothing massages and treatments and a large indoor pool that's heated. Later, after changing out of your robe and into your evening clothes, you can dine at the Porto Novo Restaurant. They serve traditional dishes like cataplana with monkfish, sea bass, and mussels from the coast, flavoured with fresh coriander. You can also try seabream fillets with tomato and cookie Acorda, which is a typical bread soup.
Guests are provided with amazing facilities to keep themselves occupied such as a fitness centre, and swimming pool, making this incredible hotel one of the best hotels in Port for a perfectly comfortable time in the soil of the Portuguese.
2. Torel Palace 1884 Hotel
If you're a history enthusiast, the Torel 1884 Hotel is your spot. It is situated in a beautiful 19th-century palace that has kept much of its original charm. The impressive staircase in the middle of the building immediately gives a royal feel. There are twelve luxurious bathrooms with tall ceilings and standalone bathtubs. Each room is special, drawing inspiration from Portugal's colonial past, incorporating elements like coffee, spices, and exotic birds into the décor, Head down to the wine bar on the first floor and wrap up your day by raising a toast with some tapas.
This historical hotel comes with attractive facilities such as 5 restaurants with incredibly delicious dishes for its visitors to enjoy and a massage area for guests to go and relax their muscle stiffness with a professional therapist. Every man wants a place where he can spend time with his family and enjoy time away from their ordinary lives, this is why a family room area is provided by the hotel to ensure a family bond stays strong. For these reasons, Torel Palace 1884 is considered one of the best hotels in Porto.
Visitors are provided with amazing breakfast with all the best there is to eat in Portugal with its 24-hour room service. So you are entitled to an all-day meal. The hotel also makes sure you get an escort with their airport transfer assistance for visitors to be safe.
3. Pestana Porto A Brasileira Hotel
For those who love soaking in the local atmosphere, this hotel is a gem. Designed by Jaime Morais from Brazil, each floor is like a gateway to a sensory adventure, highlighting spices brought back by the Portuguese during colonial times, like chocolate or pepper. If the décor makes your stomach growl, head to the hotel's restaurant for a tasty dish of fried cuttlefish with coriander and lime mayonnaise. And don't forget about Café A Brasileira.
Like many hotels, you need to have a few facilities to keep your guests occupied and busy. That's why you get engaging facilities here such as a fitness centre and a swimming pool to keep you active during your stay at this amazing hotel.
There is also a kid's room where children can come together and have a good time while parents enjoy some quality time indulging in the delicious meals the hotel restaurant offers through their amazing chefs. As you can see, Pestana Porto A Brasileira Hotel has earned its spot as one of the best hotels in Porto.
4. The Yeatman Hotel
If you're a food lover, this hotel is a top pick. Even though it is relatively new, having opened about ten years ago, it is widely recognised as a standout hotel in Porto. The design is impressive, offering roomy spaces, bathrooms with cosy underfloor heating, and balconies with a view of the swimming pool and the Duro River stretching beyond. You will quickly be captivated by the delightful atmosphere. Moreover, you will be won over by the culinary creations of chef Ricardo Costa.
The Yeatman Hotel also gives you a taste of the best spa treatment you can ever get in Portugal. With a qualified therapist, you are assured of getting the best relaxation spa treatment in Portugal. That's why this is one of the best hotels in Porto. Visitors have several things they can do like going to dive into the outdoor swimming pool and getting their body fitness improved at the fitness centre.
Having a Good Night's Sleep in Porto
Getting a good rest in one of the best hotels is one reason why tourists enjoy booking their stay in hotels, and this is the same case when you visit the hotels in the city of Porto. You are guaranteed a good rest of sleep and relaxation. So if you are seeking a perfect place for a good rest of sleep, don't hesitate to visit the city of Porto. You can also read more about tours in Portugal here.