Nowadays, a holiday getaway demands more than just a basic shelter. Fortunately, Australia prides itself on an abundance of resorts that elevate your vacation experience to extraordinary heights. From lavish all-inclusive beachfront hotels pampering you with top-grade dining and spa services. Here is a list of the finest Resorts in Australia.
1. Fairmont Resort & Spa Blue Mountains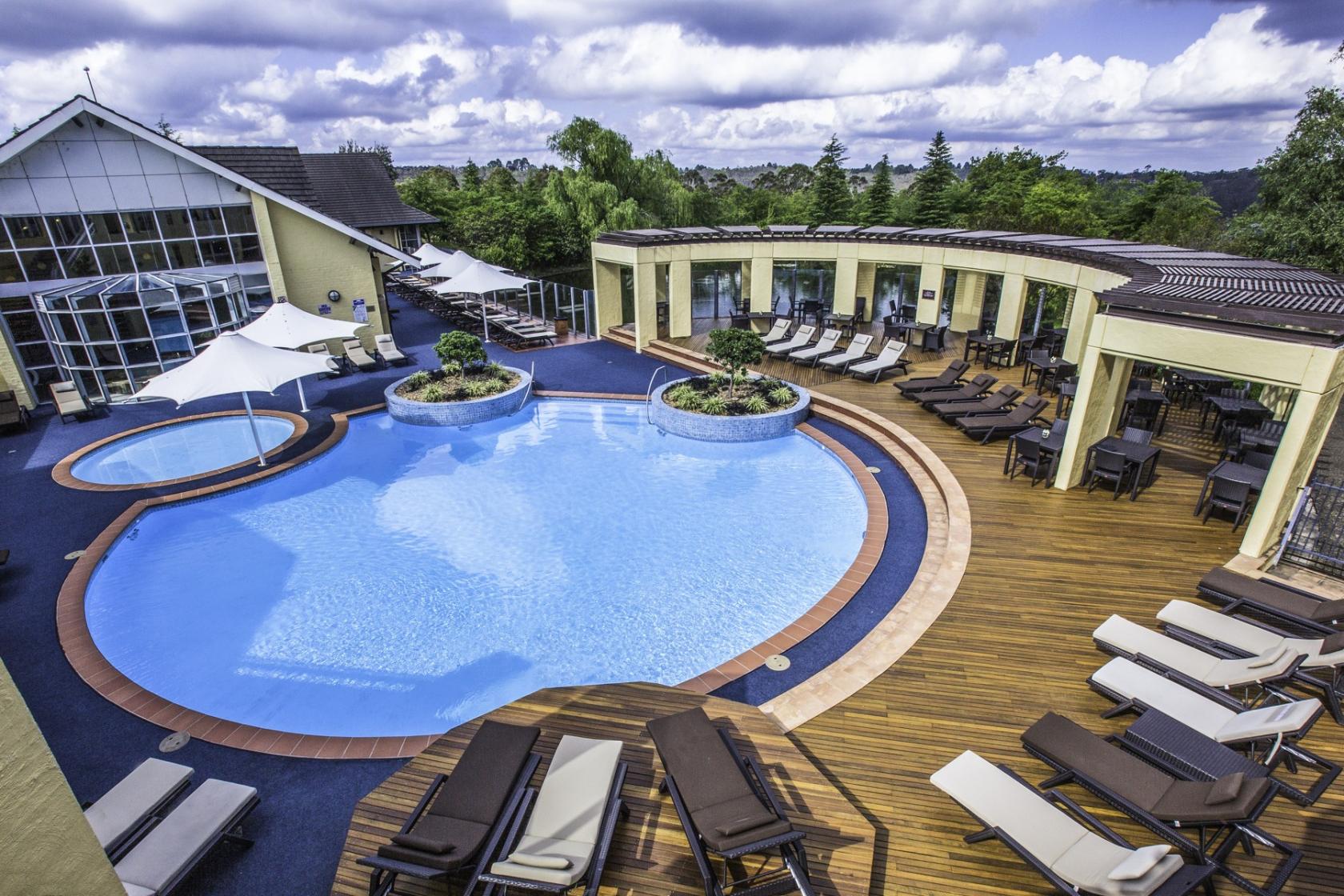 The Fairmont Resort in the Blue Mountains is famous for its incredible mountain views, yummy high tea, and walking trails for all levels. But what really excites the tourists is the special train that goes around the resort. This family-friendly resort also has pony rides, and a tennis court and they have the first-ever ice-skating rink in the Blue Mountains.
Tourists can spoil themselves on a spa journey that exceeds the ordinary. Choose from a lineup of massages, each providing to your desires be it the calming strokes of Swedish massage or the tension-melting process of deep tissue. Restore your complexion with comforting facials and enter the glow of refreshing body scrubs and wraps.
The resort includes a duplex infinity pool, and a marvellous fitness centre, which provides guests with several fitness facilities, including well-equipped centres where guest can maintain their workout routines.
2. Kingfisher Bay Resort
Situated between the natural wonders of Kgari, kingfisher Bay Resort is celebrated for its attractive sand dunes, pristine freshwater lakes, winding creeks, and towering forests, which rival its stunning beaches. The resort offers interconnecting family-style hotel rooms. The resort presents wellness dune rides for tourists interested in high-speed rides on the smooth desert sands. The dune rides are organised through guided tours. Specially designed 4WD vehicles are used to navigate the sandy terrain on the islands' magnificent sand dunes.
Knowledgeable guides drive the vehicles, ensuring the safety and enjoyment of the guests. The tours follow designated routes and paths to showcase the natural beauty of the dunes. Visitors can enjoy a lagoon-style pool, direct access to the western beach, and activities like the Junior Eco Ranger Program, fishing excursions, scavenger hunts, nature walks, stargazing, and campfires.
3. The Islander Noosa Resort
Stay at this relaxed, tropical-themed resort in Noosa, Queensland. And you'll have amazing beaches right nearby. Plus, you will be in a special place recognised by UNESCO for its diverse local nature. Treat yourself to luxurious body treatments, like exfoliating scrubs that leave your skin feeling soft and smooth and wraps that envelope you with nourishing ingredients that ensure you are left feeling renewed.
Among them is a lagoon pool, which offers a unique calm setting for a refreshing swim. This allows tourists to cool off and loosen up after a day of exploring the Sunshine Coast. The resort provides tourists with three spa treatments in which the guests can enjoy consoling treatments that ease away any stress or tension, leaving them feeling refreshed and energetic.
For guests who are on a health-conscious wellness journey, treatments like aromatherapy and reiki bring harmony to your mind and body. when it comes to fitness. There is more to enjoy with two saunas on site, visitors have the option to further loosen up and detoxify their bodies, enhancing their overall sense of well-being during their stay.
4. Crystalbrook Byron Resort
Tucked away in 45 acres of lush rainforest in New Wales is this luxurious, nature-inspired retreat. The rooms offer amazing views of the rainforest, including treetop suites with canopy views, and they're all designed with eco-friendly features. Lodgers can enjoy a range of spa treatments that cater to their every need.
From energising massages that knead away tension to facials that leave your skin glowing and refreshed, the spa is a satisfying experience, but the pampering doesn't stop there. Treat yourself to comfortable body treatments, like shedding scrubs that leave your skin feeling soft and smooth and wraps that envelope you with nourishing ingredients that ensure you are left feeling refreshed.
5. Pullman Palm Cove Sea Temple Resort and Spa
Hidden in the beautiful Palm Cove village of Queensland, this fancy five-star resort is a perfect base for adventures like exploring the Great Barrier Reef or the incredible Daintree Rainforest. Visitors can explore activities like whitewater rafting in Barron Gorge. For a more exciting experience, you can go on a helicopter ride at this resort.
The resort offers the best type of facial massage treatments that work wonders, leaving your skin glowing and revitalised, as if you've just stepped out of a refreshing rain shower. Its intense facial scrub cleaning which is a mixture of natural herbs from the resort plants ensures effective facial improvements. The facilities are top-level providing a cutting-edge gym with the best gym equipment in the world, motivating you to break a sweat and feel re-energised.
6. Fitzroy Island Resort
The amazing resort with its 99 rooms, is a beautiful island getaway right in the heart of the Great Barrier Reef. They've got a penthouse that can fit a big group with four bedrooms and two bathrooms. The Spa treatments are the perfect wellness satisfaction for your well-being at this resort. Giving you massage treatments that will erase your muscle tension, leaving you feeling refreshed and satisfied. The facial massage treatments work magic, leaving your skin glowing and revitalised, as if you've just stepped out of a refreshing rain shower.
Experience Wellness in Australia
The best accommodation also provides you with the best wellness experience to make your stay more enjoyable, and interesting this is the treat you receive when you visit a resort in Australia. Explore more about glamping in Australia here.